Fish Harvesting Boats are also available in kit form and are primarily used in the Aquaculture industry.
Kits can be manufactured according to your requirements and some engineering drawing costs may be necessary for some custom applications.
These kits are used as commercial fishing boats and could easily be modified for other work utility type boats.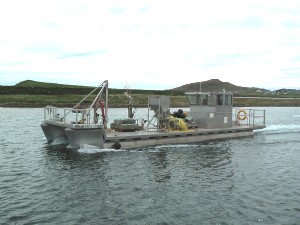 The photo above has a crane and the front of the boats have raised nose cones to protect the deck from high waves. It also has an aluminum pilot house.
Some of these boats were 30 to 35 feet long and 12 feet wide. There were various diameter from 33 inches to 42 inches.
This can be custom made to suit your specifications