A custom / modified kit is supplied for those applications not suitable for a standard size kit.
Example
A recreational boat kit can support a "Pop-up Camper, Boutique, Office, Tennis Court,RV,etc:"
The below kit has 2 x 36" diameter pontoons and is carrying an RV, and the size is 45 feet in length and 12 feet wide.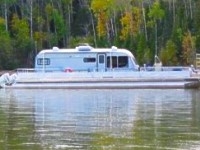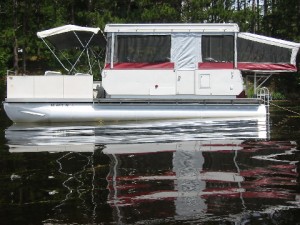 This recreational kit carries a pop up camper with wheels and axles removed.
The kit is 27' long and 8.5' wide with 28" diameter pontoons.
Railing at the front and a bimini top give protection from the elements and privacy.