Example Barge
A custom / modified kit is supplied for those applications not suitable for a standard size kit.
The below picture shows optional commercial railing and aluminum arches that will be covered with a removable acrylic top.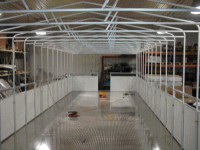 The below picture shows optional high buoyancy nose cones with added keels. (View more)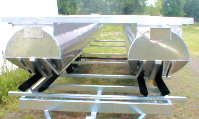 Finished boat on the right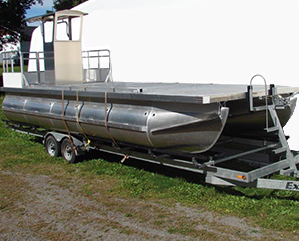 The above example has heavy duty railing across the rear and partially up the sides. The flooring is 3/16" checker plate.
An aluminum open style pilot house protects from the elements.
With 30" diameter pontoons a length of 30' and a width of 8.5' this work boat or barge is ideal for carrying equipment, material and workers to job sites.the high capacity nose cones have added bottom keels The diameters can easily be made larger to provide more weight capacity.