A custom / modified kit is supplied for those applications not suitable for a standard size kit.
Custom kits can be used in many types of applications. The pictures on this page show a custom work boat assembled from one of our kits.
Our custom kits can be built to fit most clients specifications for all types of uses.
Twin masts with twin remote controlled winches lift an aluminum ramp which is 10' wide and can support up to 30,000 lbs.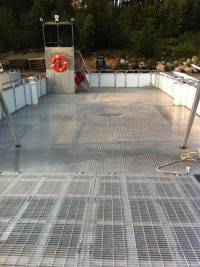 The below custom made Pilot House is 4' x 5' on a 4' high base aluminum base.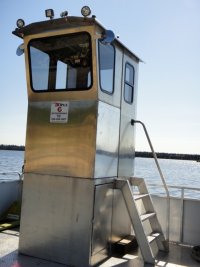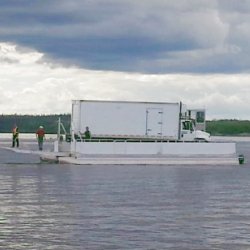 The above picture shows a work boat / barge used to transport 15 ton (including truck filled with goods) in northern Canada.
Diameter of the pontoons are 42" with a length of 44'.
Width of the boat is 20'. and is covered with aluminum plate.
Two 42" diameter x 44' long centre pontoons with integrated transom give added support and buoyancy.
The aluminum ramp is 8' x 14'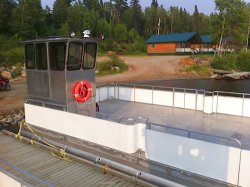 We can supply ramps and masts (above left picture) or manufacture other aluminum products like the heavy duty railing (see picture below)