A custom / modified kit is supplied for those applications not suitable for a standard size kit.
Example Party Boat
The Party boat on the right has 36" diameter pontoons with a 1/8" thick pontoons.
With a length of 35' and a width of 12' there is room for all of your quests.
The below example shows an alternative method in seating arrangements and general layout.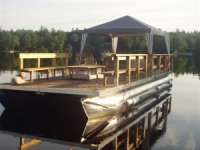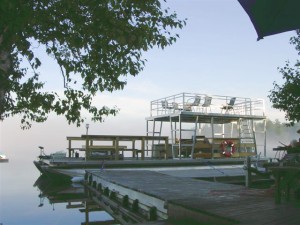 This example has a custom 12" x 16" sun deck kit with a railing around the perimeter of the sun deck. Seating is simple with patio furniture on the upper deck while the main deck has aluminum framed seats.
This can be customized to suit your application.